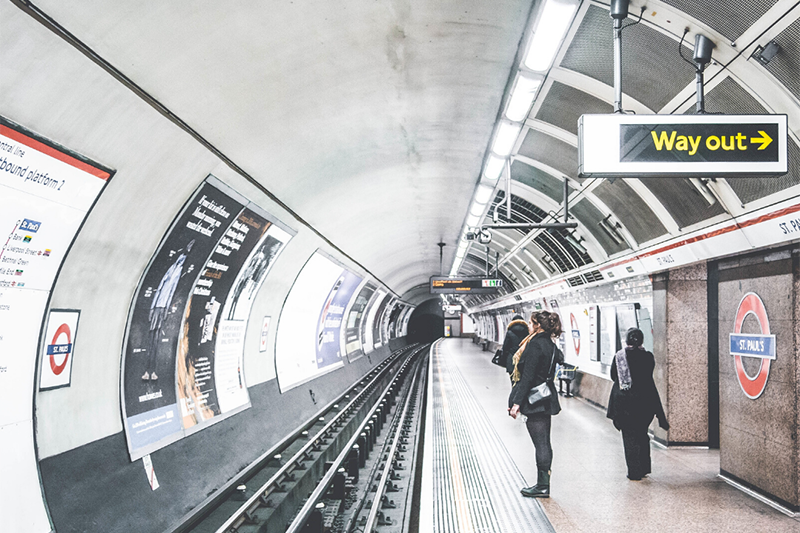 According to Marie Curie, "nothing in life is to be feared. It is only to be understood.' I'm pretty sure she wasn't talking about the London Underground system, but when it comes to me and the Tube, her words ring all too true. When my eldest was three and my daughter eighteen months I'd taken them on the Tube twice. In total. And not even at the same time! I was ashamed of my cowardice because there is just so much to explore in and around London, especially as the grow up. I didn't want them to miss out due to my fear of the struggle.
But I did always feel the travel struggle was real. Clambering on the Tube with kids in tow? Fretful. I'd be flustered at navigating the steps and stairs. Minding the gap to spare their little feet and my big buggy. Looking so hapless and helpless that a kind commuter would have to save me, my children and all the 'essentials' I'd have on board. The cultural 'shame to be saved' may be a British thing, but I'm sure many of you taking young ones on the Underground would also 'get the ick' asking a stranger for help.
When I have taken the train, I've planned out my route in meticulous detail. And by that I mean I went the long way round to make it as step free as possible from platform to pavement. Add to the mix that I really do not like crowds and the fact the Tube seems to house half of London's population (plus almost every tourist in the UK). Truth be told, I just avoided the whole situation as best and as often as I could.
Yet possibly the worst part of it all: my son adores the Tube! We spent a not insignificant amount of his second year hanging outside Willesden Green station simply to watch the trains speed by. To watch. Yet not to brave jumping on board. And to think back then I only had him to look after…
A little while ago my daughter and I stepped outside my comfort zone. We dared to take the Tube to Central London. Please believe me when I tell you this: it was so easy! In fact, I was somewhat aghast at how I had built it up to be something it honestly wasn't. Simple, and actually quite pleasant. Of course it wasn't seamless. I had to hike her up the stairs at Great Portland Street. But she's little, the buggy is light and my personal training is clearly paying off. We arrived earlier than expected and, for the return journey, took full advantage of 'zone one', enjoying a sunny stroll through Regents Park to catch the Overground home.
This adventure taught me to embrace my fear more often. I will certainly go again. And next time I'll take both kids and plan to be out for longer. I will pack less, be lighter on our feet, and remember to have options for my kids of different ages, ability and stamina. Taking our wheeled board and a sling I can alternate between walking, sitting, being pushed and being carried dependent on, you know, tiredness, mood, need to nap etc. (And that's just me…!)
Pro tip: if you do do this often, invest in a lightweight stroller. It doesn't have to break the bank. There is so much choice for easy-to-collapse, foldable, carry-on-your-shoulder models. 'Fully reclining' is a bonus so you won't be held hostage by nap times.

My no longer fearing the Tube has (re)opened a whole window of possibilities for me and my two. So watch out, Daddy. We're coming to meet you for a lunch date soon. Marie Curie would be proud!