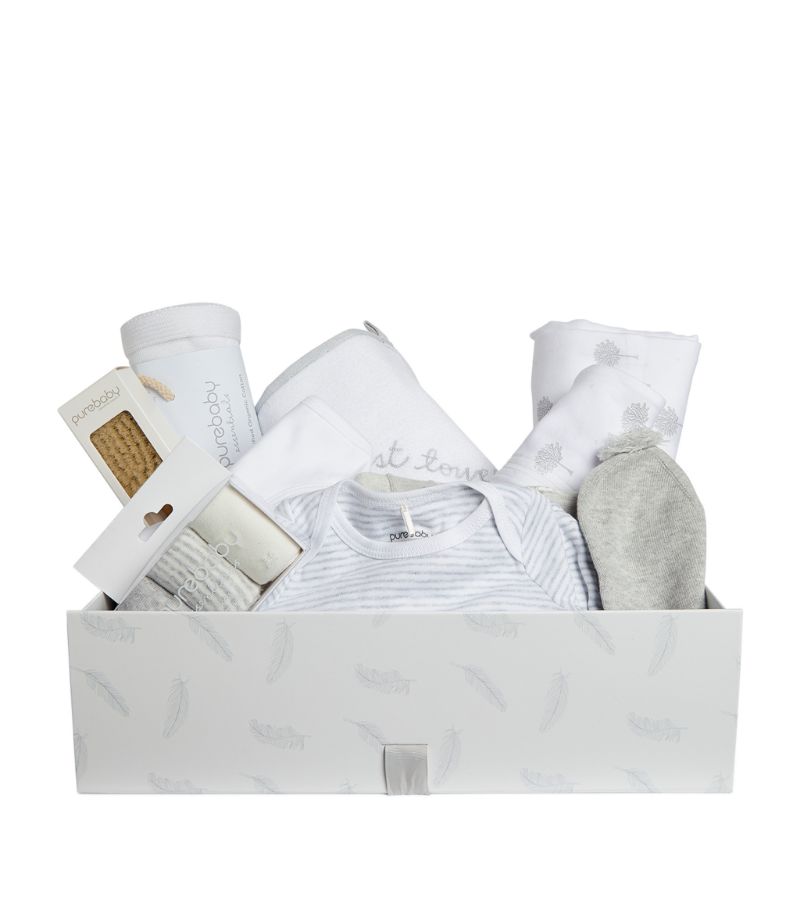 Buying sustainable gifts for a newborn is a great way to show your care for the baby and the planet. Here are a few sustainable gift ideas you can consider instead of buying new.
Organic Cotton Clothes:
Look for clothes made from organic cotton, which is grown without the use of harmful pesticides or chemicals. These clothes are soft, comfortable, and gentle on the baby's delicate skin. Remember a baby grows so think about the sizing carefully. If you buy for the future be mindful of the season it's likely to be when they reach that age range. Choosing a hamper set, such as this beautiful one by Australian brand Purebaby has a mix of useful items including dribble bibs, vests and towels.
Wooden Toys:
Wooden toys are eco-friendly and non-toxic. They are durable and can be passed down to other siblings or generations. Do not underestimate how much a wooden toy will be played with and how resourceful a present it can be. Look at our Steiff Walker for instance. Not only is it usable whilst they're sitting to put things into you can also place their favourite toys or books in for storage. Of course, it's a wonderful way to encourage baby's first steps and once they're up and about I can promise you that they will love having something to push along!
Natural Skincare Products:
Babies have sensitive skin, so it's essential to use natural skincare products that are free from harmful chemicals. Look for products made with organic ingredients such as coconut oil, shea butter, and calendula oil and don't forget about Mum, her body has been through so many changes which will continue for months to come!
Hand-Me-Downs:
Preloved clothing and toys make perfect gifts for new parents who want to reduce their environmental footprint. Receiving circular economy presents from friends and family is a thoughtful message. Ensure everything is clean and sterilised before gifting and of course is in good condition.
Make a Few Meals:
One of the best gifts I received was a surprise supermarket delivery, from a very dear friend. Having a newborn for the first time is all consuming and often the simplest tasks like preparing meals can get overlooked. If you're unsure of what is suitable to buy, why not gift them some vouchers for somewhere like Cook who sell frozen homemade meals.
Your Time:
Remember, the most sustainable gift you can give a newborn is your time and attention. Spending quality time with the baby and helping the parents with tasks can be invaluable. How about offering a couple of hours of babysitting or taking the baby out for walks in their pram? Helping parents catch up on some well needed sleep or household jobs is priceless!