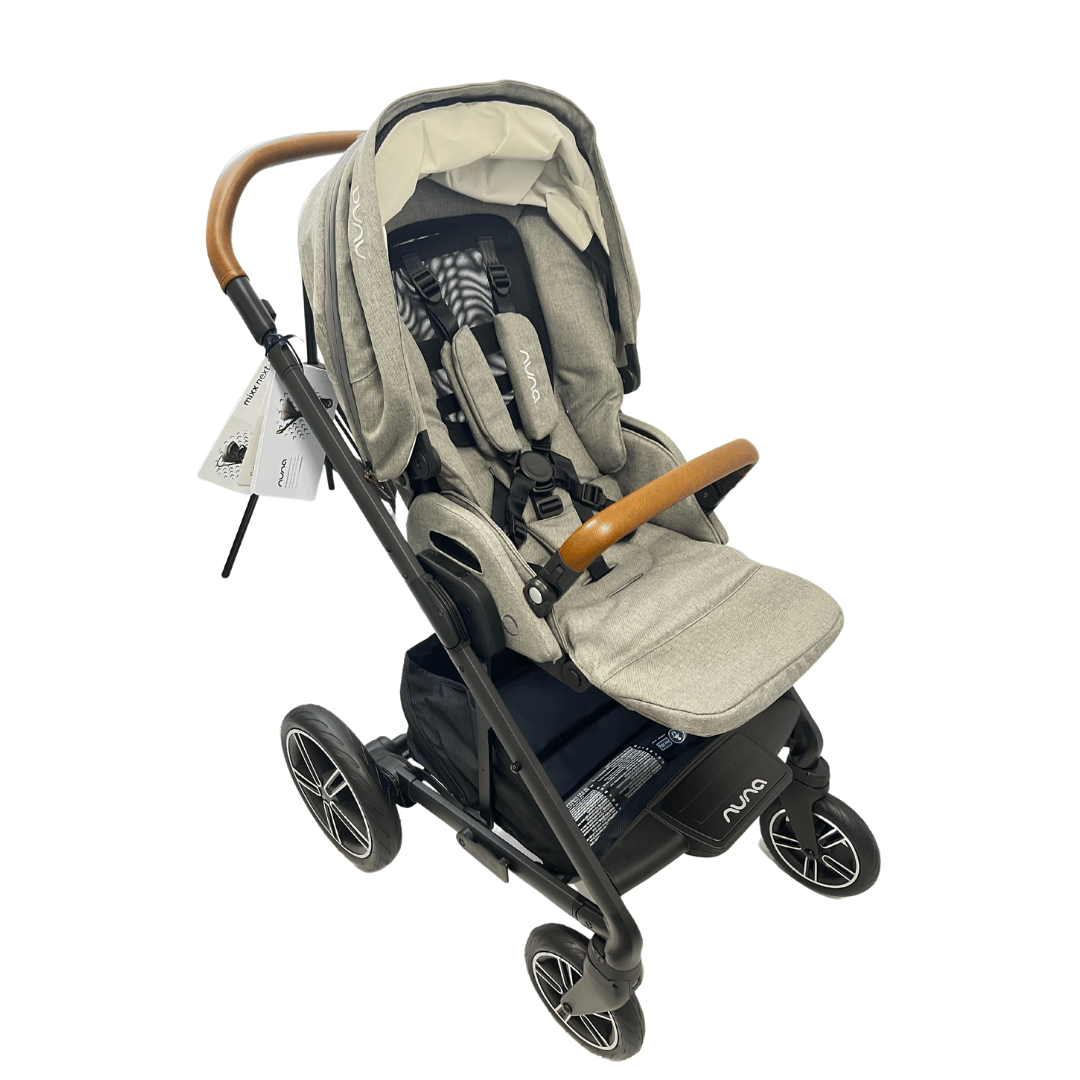 Here's why if I had another baby I'd be buying the Nuna mixx pram! (I'm not by the way!!)
The Nuna Mixx is a line of prams that are designed for parents who want a stylish and practical pram that can adapt to their needs. The Mixx pushchairs are manufactured by Nuna, a Dutch company that specialises in producing baby gear and accessories. On their website they state that as a global brand they "remain inspired by the ingenuity of Dutch design, craftsmanship, clean lines, and thoughtful solutions". So why am I so keen? And no, before you say it, it's not because our names are so alike LOL !
The Nuna Mixx features all the modern needs that parents want from a pram; reversible seat, adjustable leatherette contrast handlebar, fully lie flat seat and the 5 point harness but it's the elegant and really well considered extras that sell it for me.
Magnetic Harness:
Subtle touches for simple on-the-go parenting include the self-guiding magnetic buckle. As you pick up the buckle to strap your baby in, it connects without any effort, making it a dream to strap in your little one. It also has a brilliantly easy one-hand recline system with adjustable calf support and integrated footrest making it super comfy for on board naps. I love the zipped pocket on the back of the seat perfect for keeping your mobile within easy reach and it's a true lie-flat chair!
Generous Shopping Basket:
The size of the basket beneath the pram is really spacious with two compartments and a handy secret zipper pocket for keeping essentials extra safe. When my kids were in pushchairs I relied heavily on the shopping basket and it was often full with 'just in case' clothing, fold up scooters and snacks. If you are someone that is always out and about with your pram then you REALLY want a decent size basket.
TRAVEL SYSTEM READY:
The Nuna Mixx is a full travel system with the addition of the carry cot and PIPA car seat. The bassinet is sleek and roomy with an ingenious integrated dream drape that can help keep your baby snoozing for longer or simply reduce the amount of outside stimulation for newborns. There's another really well thought out hidden compartment that is located at the bottom end of the carry cot. Perfect place to store items within really easy reach, such as their dummy, steriliser wipes or a pocket hand sanitizer gel. The stroller is compatible with Nuna's PIPA series car seats, with the additional ring adapter, allowing parents to create a travel system that can easily transition from car to stroller. And if you're more of an Uber user, the PIPA is really lightweight at around 5Kgs and can be safely strapped with a seatbelt.
SUPER SIMPLE COMPACT FOLD:
In my opinion, it is also one of the easiest full size pushchairs to fold down in an instant with one hand! It might sound like a less important detail to expecting parents when choosing a pram, but let me assure you it makes a huge difference. If your pram is a faff to put down you will be ruing the day you spent all that money on it! You want to choose something that effortlessly folds down and opens up again. The mixx, with or without the seat unit attached, folds down really neatly. An ideal design if you're limited on space for stowing your pram without compromising on the size of the pushchair!
Because I'm such a huge fan, I'm offering an exceptional deal on the Nuna Mixx pushchairs, for a limited time only, AND I'm including the carry cot with each bundle 😱
DON'T MISS OUT!