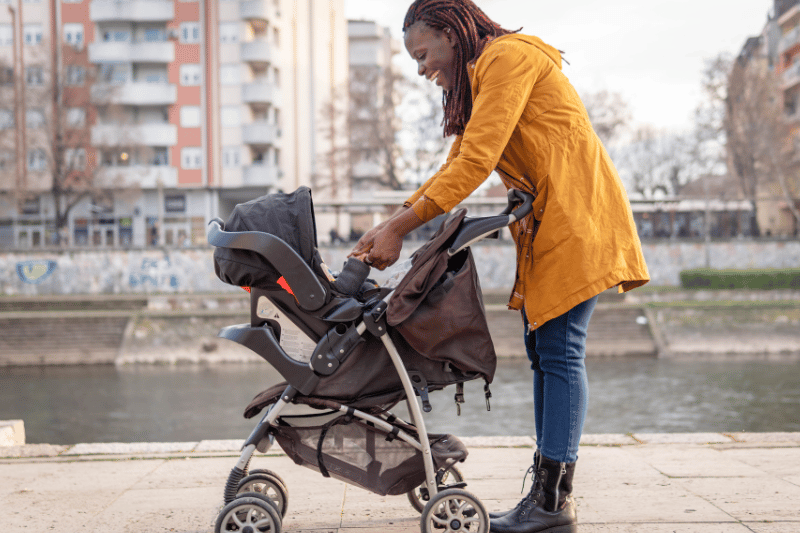 When buying a pram, there are several factors that you should consider to ensure that you make the best choice for your needs.
Here are some things to look for when buying a buggy:
Safety:

Safety should be your top priority when buying a pram. Look for a pushchair that has a sturdy frame, good brakes, and a 5-point harness system with adjustable shoulder straps to keep your baby secure. If you're buying a second hand buggy open and close the frame to make sure that it locks into place securely. If you have a reversible seat, be sure to test it out a few times facing in both directions as well as lowering and raising the seat to make sure all the main functions are working correctly. Also, look at the wheels, this is where the bulk of wear will be visible. If there are tears or chunks missing out of the wheels you will need to replace them so you can always negotiate on price and use the money to buy a replacement set.

Comfort:

Your baby will spend a lot of time in the pram, so it should be comfortable. Look for a pushchair that has a padded seat, a comfortable handlebar, and good suspension to absorb bumps in the road. You can always purchase additional seat liners and inserts that keep baby snug and secure especially if they're on the smaller size.

Size and weight:

Consider the size and weight of the pram, especially if you plan to use it in tight spaces or take it on public transport. A lightweight, compact pram like the Leclerc Baby Influencer may be more convenient for everyday use but it may not be as robust out on trips to the park and a big basket is always a good idea!

Manoeuverability:

Make sure the pram is easy to manoeuver, especially if you plan to use it in crowded areas or on rough terrain. Look for a pram with swivel wheels that can also be locked into place making it easier to tackle cobbled stones and uneven terrain without making the ride too bumpy for your little passenger and good steering. I love a pram that I can comfortable steer one-handed leaving one free for coffee, a phone or a dangling baby that refuses to stay in the pram… you know it will happen! TA favourite all-round pushchair of mine is the Nuna Mixx Next which has also been voted pram of 2023 by Mumsnet!

Storage:

Consider how much storage space you need for your baby's essentials when choosing a pram. Look for a pram with a good-sized basket or pockets for storing nappies, wipes, and other baby gear plus the additional hoards of sticks, stones and leaves that your gorgeous toddler will insist on bringing home every time you visit the park!

Adaptability:

Consider whether you want a pram that can be adapted as your baby grows. Some prams can be converted into a pushchair or a car seat, which can save you money in the long run and some models, with additional adapters, can become a double or tandem buggy.

Price:

Prams can range in price from budget to high-end models. Consider your budget and choose a pram that offers good value for money and meets your needs and don't be put off buying one that is preowned, you can get save hundreds of pounds by doing so. Take a look at the Cybex Mios we have for sale which was hardly used by the original owner and is around £250 cheaper than buying it from new. If you can try to test out a few different models to get a feel for what is right for you. Ask friends and family that have a buggy to see what they like or don't like about their pram.
Overall, the most important thing is to choose a pram that is safe, comfortable, and practical for your lifestyle and your baby's needs.
For more advice and tips follow me @buggyparkuk.